Products
VAT Number Validation Add-in for Excel
VAT Number Validation Add-in for Excel
Is validating VAT numbers an ongoing responsibility for you? And is it a time-consuming process? Would you like to use a simple and efficient solution for checking hundreds of VAT-numbers?

The Valdit VAT Number Validation Add-In for Excel 2016 helps you by simplifying VAT Number Checks, checking multiple numbers fast and streamlining your Compliance Processes!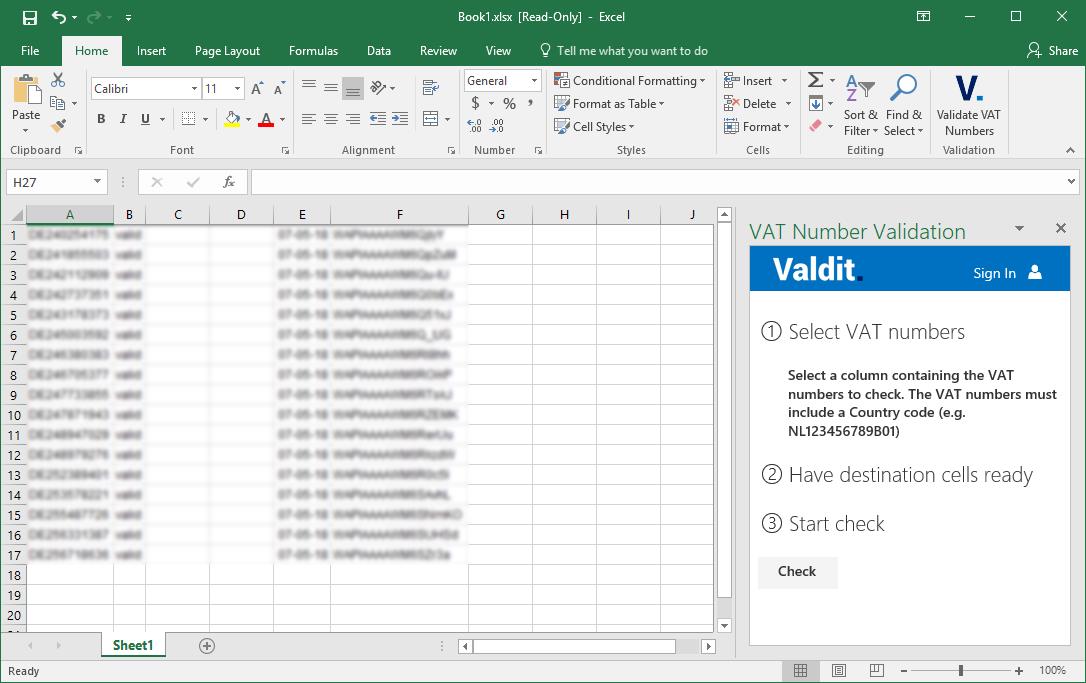 Licensing
A Valdit account is needed to use the VAT Number Validation Add-In. After registering your Valdit account, you can start a One Month Free Trial that allows you to verify if the Valdit VAT Number Validation Add-In meets your business needs. The Free Trial ends automatically. No Credit Card is required.
Using the Valdit VAT Number Validation Add-In
1Select VAT numbers

Checking your VAT numbers has never been easier. We'll show you how to use the Valdit plugin to verify your VAT number.

To get started, create a list of the VAT numbers that you need to check. The numbers should include the country code. Select the list.

2Have destination cells ready

The results of the check will be placed back in your spreadsheet.

We'll use the five columns to the right of your list of VAT number. We don't want to overwrite anything, so make sure these columns are empty.

3Start Check

Press the Check button.

For each VAT number we will query the Europa VAT VIES service on your behalf. You can see how your checks are progressing.

Results

After a while, you will see the enquiry results in your spreadsheet.

The first column tells you if the VAT-number is a valid VAT registration number according to the EU VAT VIES system.

Results

The next two columns contain the names and addresses of your business partners.

Results

The right most columns contain a timestamp for your enquiry and a consultation number that was issued by the EU VAT VIES service.

National Tax Services advise you to maintain records of your enquiry results. You can ensure compliancy by keeping a copy of this spreadsheet.
Installation
Installing the Add-In is easy. Please go to Microsoft AppSource and click the blue 'GET IT NOW' button. You will find this button at the top left of the page:

Or download the Installation Manual here:
Free Trial
800 VAT checks
One Month Free Trial
Single User
Email support
Subscriptions are billed annually. Prices indicated are in Euro and excluding VAT.